Flights of fancy dance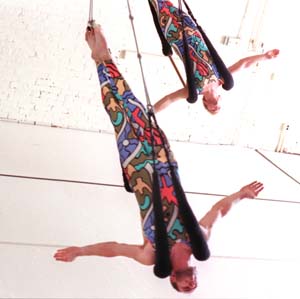 Photos by Chris Richards / Staff
Charles Thompson, foreground, and Matthew Henley rehearse on doubled-barred trapezes for the premiere of "Balanced Edge."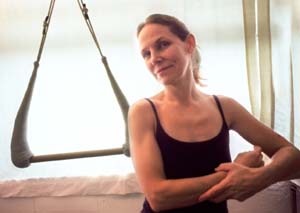 Anne Bunker, artistic director of O-T-O Dance.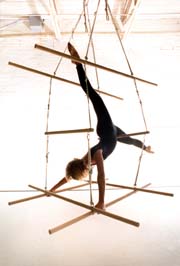 Elizabeth Beck, in her "Balanced Edge" box.

Shows this month

* Orts Theatre of Dance premieres "Balanced Edge" at 8 p.m. Oct. 27; the show repeats at 8 p.m. Oct. 28 and 2 p.m. Oct. 29 in the Pima Community College Center for the Arts Proscenium Theatre, 2202 W. Anklam Road. Tickets are $8-$10 in advance, $2 more the day of the show. Call 624-3799 or 206-6987 or buy them at Antigone Books, 411 N. Fourth Ave.; Silverbell Trading, 7007 N. Oracle Road; or Bentley's, 1730 E. Speedway. For information on classes in aerial dance, call O-T-O at 624-3799 or visit the Web site at http://www.orts.org/.

Anne Bunker and Chuck Koesters launched Orts into aerial dance in 1992.


The year before, they were at an Oregon arts conference when they saw Colorado dancer Robert Davidson perform on a trapeze.
"He performed his solo 'Ramses Rising,' " recalled Bunker, "and I was on the edge of my seat the whole seven minutes. I'd been looking for another dimension for my company, and, when he was finished, I turned to Chuck and said, 'That's what I want us to do.' "
The Arizona Commission on the Arts funded a grant to bring Davidson to Tucson to teach aerial dance to O-T-O members.
"Bob came out and gave us a crash course in aerial dance," said Bunker. "In 10 days, he taught us the basics and created a piece - 'Cambrian Dances' - on six dancers. Since then, O-T-O has managed to get him back almost every year."
Currently head of movement at Denver's National Theatre Conservatory, Davidson is also widely known as one of the masters of aerial dance.
"From the beginning," said Bunker, "we thought of (working with him as) more than a one-shot collaboration. It was a big investment of time. Besides teaching us the dancing, Bob taught Chuck all about the rigging" - the technical design and engineering that ensures that the trapezes stay up and the dancers stay safe.
"You have to balance safety and artistic intent. It's not always easy," said Koesters.
In 1993, Bunker began both choreographing and teaching aerial dance herself.
"For the first few years," said Koesters, "we didn't deviate much. Then, as artists, you begin to add your own ideas and expressions. We took what we learned from Bob and began to add to it."
"I use a lot of dance," said Bunker, referring to her habit of weaving dance on the floor with dance in the air. "My take was to retain my modern dancer's sensibility and utilize it in addition to aerial dance. We're trying to forge our own tradition."
Davidson, she said, believes that, in addition to the circus, aerial dance had its beginnings with the masons who worked suspended from ropes as they built the medieval cathedrals. It's moved far from its origins, though.
"It's not like the circus," said Bunker. "It's not about tricks."

Two of the innovators in aerial dance, Anne Bunker and Chuck Koesters, are taking their Tucson troupe to new heights
By Jennifer Lee Carrell
ARIZONA DAILY STAR


Dance has leaped into the air; if and when it comes down, it may never be quite the same.

Aerial dance - or dance suspended and swirling through the air on a variety of gravity-defying apparatus - looks to be the next major revolution in dance, possibly as form shattering as Isadora Duncan taking off her shoes and running free in bare feet a century ago.

Two of aerial dance's innovators, Anne Bunker and Chuck Koesters, work right here in Tucson. Bunker is the artistic director of the Orts Theatre of Dance; Koesters, her husband, is the company's executive director, as well as technical director, lighting designer and composer. She dreams up the dances, and he engineers them into something safe and possible. Or sometimes, he dreams up the contraptions that float and spin above the stage, and she shapes dances for them.

These days, more often than not, they can be found in rehearsal with the company downtown at the Ortspace Studios, preparing for the premiere of Bunker's full-evening aerial work, "Balanced Edge," at the end of the month.

A young and volcanic art form, aerial dance has a tendency to shape-shift. The low-flying trapeze, however, remains its home base. Dangling at about the height of the dancers' foreheads, these trapezes are designated "low-flying" to distinguish them from the circus acts of the high-flying trapeze.

From Australia to Buenos Aires, dancers are experimenting with ropes, rings, long bolts of fabric strung through rings, poles suspended on swivels and even bungee cords. In September, Smithsonian magazine ran a story about San Francisco's Project Bandaloop, which used mountain-climbing equipment to create dances in precarious places like rock faces 2,500 feet above Yosemite Valley.

Bunker's innovations, though, focus on reinventing trapezes that soar above stages.

In "Balanced Edge," the company will dance on double-barred trapezes, mobiles, suspended sandbags, skeletal boxes, dotlike disks, rope ladders and at least one contraption so unique it doesn't have a name. Koesters is designing this last for a solo by dancer Charles Thompson, O-T-O' associate artistic director.

During rehearsal in the spacious converted warehouse that is home to the Ortspace Dance Studios, company dancer Elizabeth Breck dances on - and in - another new contraption, the spare skeleton of a box. Long, lithe and graceful in a black unitard, she stretches into a

spinning curve, becoming a comma, a sickle or a dark moon. Around her, the flexible rope and wood box hung from girders stretched across the ceiling reshapes itself with the fluidity of water or tai chi.

"A lot of my ideas come from dreams," says Bunker. "I had a dream about flying inside a box that was a multilayered trapeze. That morning, I came into the studio, and, while the dancers were working, I stacked every kind of bar I could find around them, until I had built the box of my dreams. Then Chuck came in and said, 'Do you think we can make one of these for real?'"

"She has a whole other life in her dreams," says Koesters, shaking his head.

As dance, this art form displays not only the moves and shapes the dancers make with their bodies, but the timing, balance and rhythm of those moves.

Above all, it's about the flow from shape to shape: not a discrete collection of moves or poses but a fluid continuum morphing through time. Dancer Thompson compares it to partnering, "accepting another person's weight and redirecting it, reinterpreting it and guiding it. Partnering is one of my strengths on the ground, and, in a sense, aerial dance is partnering. You're partnering the trapeze. The weight you're guiding is your own, but it's the same principles."

Bunker thinks of the trapeze as an extension of the dancer. "It's a little like riding a horse: The two of you become one thing. When you're on a trapeze, it's not separate. It becomes you, and you become it, even though it's not a live thing."

Out over the dance floor, the rehearsal moves on to three duets based on precarious relationships. Amy Knoke and company apprentice Erin Evangelist, a sophomore at Tucson High School, insinuate themselves into a double-barred trapeze and begin a slow, stretching dance.

Later, Thompson and Matthew Henley take hold of separate trapezes and skim the floor in wide circles before taking off like hawks in proud, competitive flight.

All the dancers agree that aerial dance is wildly different from other kinds of dance, fraught with its own difficulties. Says Henley, a senior in the University of Arizona's Dance Division: "There's positions and lines, a whole geometry to it that you have to master."

Thompson points out a central paradox of dance: "You're supposed to make it look easy, make it look smooth, so that the audience thinks 'Oh, I could do that' - and it's really very hard. But that's the whole illusion. It's a struggle to keep everything graceful. You have to keep a certain amount of tension on all the ropes all the time, or one will start flopping. Any move that isn't smooth will reverberate up 30 feet of rope: There's no hiding it."

The reward of aerial dance, the dancers agree, is freedom. "There's a lot more freedom of movement when you're flying," says Breck.

"We were the first to bring aerial dance to Tucson," says Bunker.

"A lot of people laughed it off as a gimmick," recalls Koesters. "We took some heat. Now people are copying it, because they're seeing that it is dance: It's a viable art form."

About the new work, Bunker says "'Balanced Edge' is based on the core inspiration of looking at balance in every way you can - and at edges - in everything from emotions and relationships to the environment."

It's a collaborative work that will include poetry, video, music and performance art, as well as modern dance and aerial dance - and mixing all these together makes for another form of balancing. Tucson poet Charles Alexander is writing poetry and spoken text. Koesters is writing music and making videos. Artist Cynthia Miller is adding her visual artistry, and local actor Paul Fisher will be doing some performance art.

"He's the spontaneous one," says Koesters. "The loose cannon. A crucial part for the emotional balance: He'll lighten up some of the serious imagery."

"The visual and auditory imagery," says Bunker, "explore different parts of the balances and imbalances in our world. The aerial dance shows the balance. It opens the door."

"It's the key," says Koesters. "We were trying to see how far we could push the dancers: How aerial can you get?"

* Contact Jennifer Lee Carrell at 573-4114 or carrell@azstarnet.com.

Video/Poem Movie With poet Charles Alexander

Music/Video/Movie Music and video by Chuck Koesters