The Best And Worst Of The Local Arts Scene In 1997.
By Margaret Regan
(Excerpt of a much larger article covering the complete arts scene in Tucson, Arizona)

O-T-O Dance continued turning out strong work, most notably with Meister Eckhart, a medieval extravaganza on trapezes; and Urban Gaits, an ambitious collaboration about downtown by O-T-O' Anne Bunker and Chuck Koesters and a trio of local artists: poet Charles Alexander, painter Cynthia Miller and videographer Nancy Solomon. Urban Gaits did what, to my mind, contemporary art ought to do: try to make sense of contemporary life, or at least respond to it.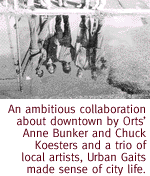 Ballet Arizona improved in this score this year, turning away from an overdependence on the 19th century to a fine concert of Balanchine works and the all-new Días de Muertos, also, coincidentally, about immigration. When it opened in November, this work by Michael Uthoff seemed partially formed, but at least Uthoff is trying to create dances about our own time and place. And the Phoenix-based company gets the prize for most-improved Nutcracker; its new choreography, costumes and sets were vastly superior to the old.
More often than not, a theatre critic in this town leads a lonely life, driving through deserted downtown streets to spend long evenings in sparsely filled theatres. Something mysterious happened this summer on the local small theatre scene, though, with company after company sprouting up in the moist air of the monsoon season. Millennium, Quicksilver, and Mercury all clamored for the limited audience that was already stretched threadbare over such other small companies as Upstairs and Damesrocket. There isn't necessarily room for everybody, though, and it remains to be seen which will stick it out.