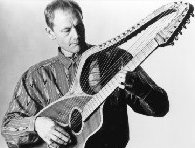 William Eaton
---
Out in western Nebraska, there's a couple of windswept little towns on the Platte River where some people try to eke out a living from the dry soil. Even along the river, miles separate individual households, and north, in the sandhills, the solitude is as profound as any on the continent. Antelope still roam out there. Flocks of migrating Canadian geese rest in the river shallows in November, crossing this ribbon of water on the fly ways towards the Gulf of Mexico.
William Eaton's parents met and fell in love in this country and the taste and touch of this fading world lives on in their children. It's a pure Americanism, direct and honest, spacious and easy going, informed by daily contact with the wide open infinities of time and space and the windy relentless prairie.
While Eaton grew up in Lincoln, Nebraska, he has always returned for holidays and family gatherings to the original home in Lisco, on the river, where his grandmother still lives. When he was seven his Uncle Charlie gave him a ukulele and showed him the chords for "Five-feet-two, Eyes of Blue".
His first performance was before an audience of 800 at Irving Junior High School in Lincoln, playing banjo and guitar with The Balladeers, a folk trio including his older brother. In high school, as lead guitarist for Candy Machine, Eaton spent most Saturday nights in farm towns hundreds of miles from home playing the top 40 music of the 1960's to local teens starved for links with the outside world.
When he moved to Arizona to attend Arizona State University in Tempe, the demands of his schedule did not permit participation in a musical group. For a time he considered musical performance a pursuit he'd have to give up as he accepted the responsibilities of adulthood. His considerable intensity was devoted to academics and athletics, areas in which he excelled. His guitar was tucked under his bed, only to come out when he needed a break from the efforts which earned him the ASU pole vaulting record and the title "Outstanding Graduate" of the Business College. But another factor was beginning to influence Eaton at this time - the surrounding country was working a spell on him.
The voice of the desert, that dry and brittle presence behind all the activity around college life captivated this young Nebraskan. Here was another solitude, another silence, another infinity beyond society; a place of origin. Opening to desert life permitted Eaton to see Tempe's local characters in a different light.
A chance meeting with a luthier student led Eaton to visit the Juan Roberto Guitar Works, a sweltering Quonset hut established when ex-pilot and luthier John Roberts returned from years in Nicaragua, flying for a lumber company, bringing with him a lifetime supply of exotic tropical hardwoods. Here in 1972, Eaton built his first guitar and his 22 year association with Roberts began.
He felt his business education was incomplete, so Eaton attended the two-year MBA program at Stanford where he specialized in small business finance and accounting. While at Stanford, Eaton also studied classical guitar with teacher Charles Ferguson.
His final project for the business school was the development of a plan for the Roberto-Venn School of Luthiery, successor to the Guitar Works, an accredited technical school devoted to the design and creation of stringed musical instruments. After graduation, Eaton returned to Phoenix and carried out this plan. The Roberto-Venn School has attracted students from all over the world with over 800 graduates in its 20 year history.
The first years after formal education were critical in developing Eaton's artistic perspectives. Family and academic commitments fulfilled for the moment, he could at last embark on the personal quest which had been taking shape during his school years. While engaged in the Roberto-Venn work, he read omnivorously and investigated the spiritual and philosophical disciplines of many cultures. He spent days and nights outdoors, deep in the mountain areas outside Phoenix. He slept under the stars, living out of his car for two years. He contemplated the origins and dynamics of music. He wandered in the desert, and played with "erasing personal history" and "stopping the world". He began to imagine and create the remarkably innovative instruments for which he is noted.
While this was not a time for performance before large human audiences, he began playing pieces in a variety of solitary settings, on a cliff in the moonlight by a quiet pool in a shadowed canyon. This period of Eaton's life is a source for much of his subsequent work, and the subtle qualities of sound, light and air experienced in the desert can be felt behind his every note.
Eaton's return to the audience began after this retreat time. In late 1978, he frequently played in the moonlight near Arcosanti, the experimental community in Central Arizona. Interested people collected to listen to these sessions. Eaton's awareness of the acoustic properties of various spaces, which grew out of his instrument building, led him to stage impromptu concerts in a variety of improbable locations. Handwritten signs promoted events at the Arizona Sand and Gravel Building, the Central Arizona Project Siphon Tunnel at Granite Reef Dam, and the Monroe Street Civic Building, culminating in 1980 with the Sunset Moonrise Concert on South Mountain, the beginning of his formal performance career.
For the following 14 years, Eaton has explored the ways people can be brought to interact with music. Venues for his performances have ranged from intimate music settings to concert halls with a full chamber orchestra behind him, to outdoor amphitheaters with audiences of thousands. He has composed, improvised, collaborated, lyricized and scat sung. Solo performances have alternated with group appearances.
Through programs sponsored by the Arizona Commission on the Arts, Eaton and his wife and work partner, dancer Christine Lamb, have brought the spark of music to school children throughout the state in extended residency programs which usually conclude with a music and dance concert put on by the children, using instruments they have designed and built.
Throughout these years Eaton has always had one instrument or another under construction at the Roberto-Venn school and he continues to teach there. Most recent in his collection, the lyraharp guitar, was completed in May 1994 and incorporates his accumulated knowledge of building guitars, harp guitars and lyres with the sophistication of Roland's synthesizer technology, permitting voicings for nearly every existing musical instrument. The new instrument has had a profound and expansive influence on Eaton's musical directions.
| | |
| --- | --- |
| | |
Eaton's recording career began in earnest when Carry the Gift, a collaboration with Native American flutist R. Carlos Nakai, was issued by Canyon Records in 1988. The Nakai/Eaton duo, a relationship which began in 1984, has proven to be an appealing combination. The two have played in concerts throughout the West and have worked together on other recordings: Winter Dreams in 1990 and Ancestral Voices, a 1994 Grammy Awards Finalist for "Best Traditional Folk Album".
Eaton has collaborated with other artists as well. On Tracks We Leave (1989), Eaton was joined by Udi Arouh, Arvel Bird, Claudia Tulip, Rich Rodgers and R. Carlos Nakai. Wisdom Tree (1992) features double bassist Edgar Meyer, and includes William Clipman, Robert Tree Cody, Arouh, Bird and Tulip. On his 1994 Canyon release, William Eaton Ensemble's Where Rivers Meet, he collaborated with Claudia Tulip, Will Clipman, Allen Ames, with assistance on some pieces from Udi Arouh, Haijung Choi, Rachel Harris, and Keith Johnson. Feather, Stone & Light, a musical trialogue among Eaton, Nakai, and Clipman was released in the March of 1995 and is currently on Billboard magazine's Top New Age Albums chart (May 26, 1995).
Eaton lives in Tempe, Arizona with Christine and his two children, a girl, Taylor, and a boy, Walker.
Eaton's interests in the varieties of musical experience and expression are sure to lead him into new areas of creation, performance and collaboration. His earliest experiences, childhood time in the sandhills, the years on the desert, the many books and conversations, fuels his curiosity and influence the sounds which come from the remarkable instruments he designs and plays.
Link to Canyon Records, where you can purchase recordings on line.